NGC 891 Galaxy
Canon 10D Digital SLR and 20 inch GOTO Starmaster
Cherry Springs Dark Sky Park
10/25/03

by Gary Honis
Skies were clear and the overnight low reached 28 degrees Fahrenheit at the scope. I was testing a second chip programmed by Victor McKeighan to provide a guide rate of the Sky Tracker for making drive corrections while imaging. This was the first time I used the scope with two new double roller bearings added to the altitude bearing to improve the motion of the drive corrections at the new rate. I was using a 102mm f/5 refractor mounted on the rocker box with a Manfrotto geared head for easier location of a guide star. A Meade 9mm illuminated reticle was used along with a 3X barlow in the 102mm refractor to make manual guide corrections.
I imaged NGC 891 with a Canon 10D using 65 second exposures at ISO 1600. A Denkmeier 2 inch OCS was used for prime focus imaging on the Starmaster. Just as I began taking exposures, breezes picked up and put a stop to the imaging session. I was able to get three 65 second exposures to stack. More images to stack will help to improve the image and reduce noise. Future tests will be made to manually guide at longer exposures up to five minutes as field rotation allows.
NGC 891 - Galaxy:
Click on image below for larger image and exposure details: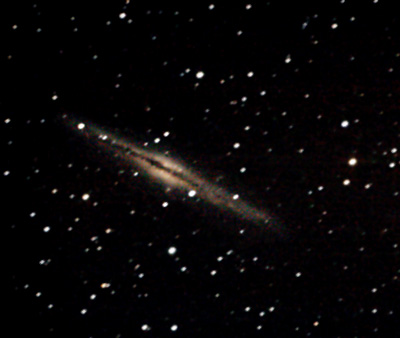 ---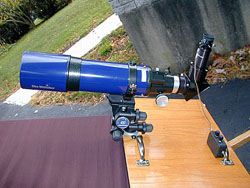 CLICK HERE for latest upgrade to the Starmaster GOTO Skytracker that provides a slow guide rate for manually guided prime focus imaging and precise centering for high power planetary/lunar imaging.
---
TO MY MAIN ASTROPHOTOGRAPHY PAGE