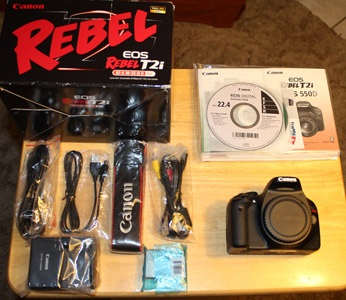 Sale: Modified Canon T2i (550D) Body Kit
Like-New condition Canon EOS Rebel T2i (550D) Digital SLR Camera - black camera body modified for astro imaging either Full Spectrum with an Astronomik MC Clear Glass replacement, or Baader modified using a Baader UV/IR DSLR filter.
Full Spectrum Price: $715 plus $20 shipping, UPS ground insured continental United States only.
Baader Price: $680 plus $20 shipping, UPS ground insured continental United States only.
Please Email for Availability
Includes the following original accessories that are in their original packaging and have not been used:
Eyecup Ef
Wide Strap EW-100DBIII
USB Interface Cable IFC-130U
AV Cable AVC-DC400ST
Battery Charger LC-E8
EOS Digital Solution Disk and Instruction Manuals
"Great Photography is Easy" Booklet and "Do More with Macro" Booklet
A non-Canon 1350mAh LP-E8 battery is also included in the kit
Description: This camera will be either Full Spectrum or Baader modified at the owners request. For planetary, lunar and solar imaging, the best Canon model at this time is the T2i (550D). For some time now, it has been very difficult to find. The T2i model is great for planetary because it is the only model that can do video capture in 640X480 crop mode at 60 frames per second. It takes me two days to complete a Baader modification, because I allow the filter glue to dry overnight outside of the camera body. It takes me one day to complete a Full Spectrum modification. I provide a one-year warranty on the modified camera.
Payment:
Personal check, money order or bank check accepted. Please allow up to five business days for personal checks to clear.
If you prefer to make payment by PayPal there is an additional 3% Transaction Fee.
Contact me at :

or by phone: 570-788-3446.
Gary Honis
DSLR Modification Service