For latest astro images taken with a 6 megapixel Canon 10D digital SLR camera CLICK HERE
For latest astro images taken with a 2 megapixel Olympus digital cameras see below.
---
C2020Z & C2000Z Olympus Digital Cameras for Deep Sky Imaging
All images taken with 20" Starmaster and C2000Z or C2020Z

Click here for gallery of Olympus digital camera deep sky images

Below are eight parts in chronological order that discuss my experiences with using an Olympus C2020Z and C2000Z digital cameras for deep sky astro-imaging:
TO PART 1 - C2020Z FOR ASTRO IMAGING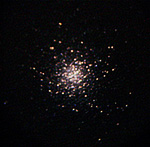 Saturn, Jupiter, Lunar and initial deep sky imaging attempts using a 2X barlow. Camera to telescope adapter described.

---
TO PART 2 - NON-BARLOW IMAGING AND USE OF F/5 FOCAL REDUCER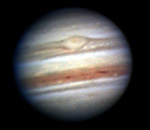 Jupiter, M42, M81, M82, M57, M27 images. Also NGC 40 with a Collins I3 image intensifier.

---
TO PART 3 - DEEP SKY IMAGING - LOW NOISE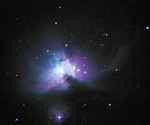 M42 with low noise and Jupiter.

---
TO PART 4 - DEEP SKY IMAGING - LONG EXPOSURES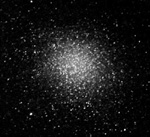 Omega Centauri, Comet T1 Animation, M42, M82, Planets and Moon. Maximizing exposure length (32 seconds on C2000Z) and use of Camera Control Software.

---
TO PART 5 - DEEP SKY IMAGING - 32 SECOND EXPOSURES - C2000Z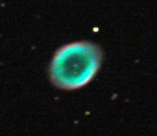 M13, M57, M81, M82, M51 and Mars.

---
TO PART 6 - DISASSEMBLY OF C2000Z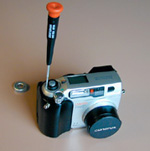 Cooling and Detailed Instructions for Disassemly of C2000Z

---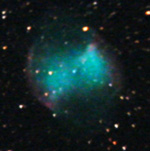 Air Cooled Modifications for C2000Z, Dark Frame Results, Deep sky images of M27 and M42
---
TO PART 8 - AIR COOLED C2000Z LATEST IMAGES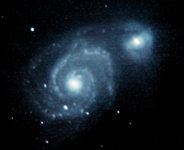 Deep sky images taken with the Air Cooled C2000Z from October 2001 to present. Images include M42, Comet Linear WM1, NGC253, Horsehead Nebula, Leonids, Jupiter Red Spot animation, Saturn, NGC 891, M51, M81, M82, M65, M66, Flame Nebula, M1, M104, Comet Ikeya-Zhang, M64, M17, NGC 4565, M16, Aurora, Iridium Flare, M31 Mosaic, NGC7293, Whole Sun and Sunspots, M33, Aurora from BFSP and M74.
---