Canon 10D Digital SLR Camera for Deep Sky Imaging
M92, Moon & Mare Crisium
Cherry Springs Dark Sky Park
5/3,4/03
by Gary Honis
FOR LATEST IMAGES SEE LINKS BELOW
This was my second time imaging with the Canon 10D digital SLR camera attached to a 20 inch Starmaster using a Denkmeier prototype 2 inch OCS. The Denkmeier OCS allows prime focus imaging at a magnification of about 1.3X without shortening of the scope's truss poles. The final version of the OCS should provide less vignetting but I have not received it yet for testing.
Ambient temperatures were in the high 30 degrees Fahrenheit. Winds were variable and did not allow very long exposures with the 20" dob, which presents a quite large surface area to the wind. I imaged objects such as the Moon, Jupiter and star clusters that required shorter exposure lengths. A Televue two inch 2X Barlow was used in conjunction with the two inch Denkmeier OCS for Lunar and Jupiter images.
NEAT IMAGE was used for noise reduction.
CLICK ON THUMBNAILS BELOW FOR LARGER IMAGES AND IMAGE DETAILS:
M92 Globular Cluster: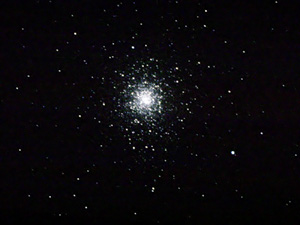 Moon: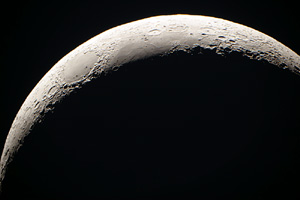 Mare Crisium: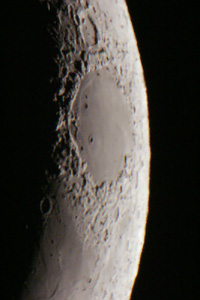 For a report on an observation of a double lunar ray event in Mare Crisium, CLICK HERE
CLICK ON THUMBNAILS ABOVE FOR LARGER IMAGES AND IMAGE DETAILS
---
LATEST IMAGES:

For images of Mars taken on 7/31/03 with an Olympus C2020Z and Philips Vesta Pro webcam with a 20" Starmaster CLICK HERE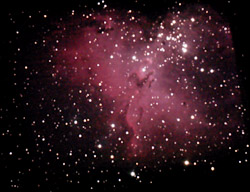 For images of M16 Eagle Nebula and Mars taken at Cherry Springs 7/25-26/03 with a Canon 10D digital SLR, Olympus C2020Z and Philips Vesta Pro webcam with a 20" Starmaster CLICK HERE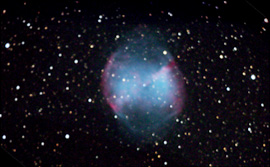 For images of M27 Dumbell Nebula and Mars taken at Cherry Springs 7/4-5/03 with a Canon 10D digital SLR and Olympus C2020Z with a 20" Starmaster CLICK HERE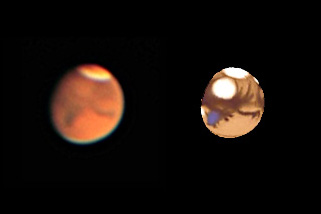 For images of Mars taken at Cherry Springs 6/28-29/03 with an Olympus C2020Z with a 20" Starmaster CLICK HERE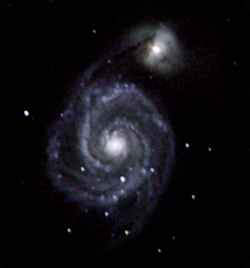 For images of M51 Whirlpool Galaxy taken on 5/18/03 with a Canon 10D, Denkmeier OCS and 20" Starmaster CLICK HERE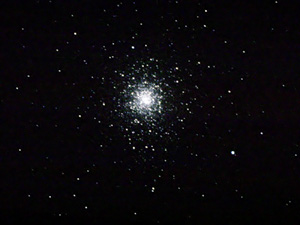 For images of M92, Moon & Mare Crisium taken on 5/5/03 with a Canon 10D, Denkmeier OCS and 20" Starmaster CLICK HERE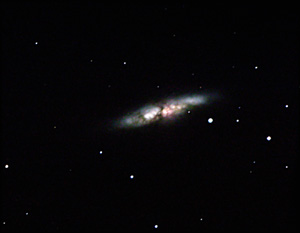 For images of M51, M13, M57, M104, M27, M17, M81 & M82 taken on 4/24-27/03 with a Canon 10D, Denkmeier OCS and 20" Starmaster CLICK HERE
---
Olympus C2000Z & C2020Z pages:
TO PART 8 - DEEP SKY IMAGES WITH AIR-COOLED C2000Z
TO PART 7 - AIR_COOLING MODIFICATION FOR C2000Z
TO PART 6 - DISASSEMBLY INSTRUCTIONS FOR C2000Z
TO PART 5 - 32 SECOND IMAGES WITH C2000Z
TO PART 4 - DEEP SKY IMAGING - LONG EXPOSURES
TO PART 3 - DEEP SKY IMAGING ON 10/31/00
TO PART 2 - DEEP SKY IMAGING ON 10/20/00
TO PART 1 - DEEP SKY IMAGING WITH 2X BARLOW
---
TO MY DIGITAL CAMERA IMAGING HOME PAGE
TO MY MAIN ASTROPHOTOGRAPHY PAGE