M27 Dumbell Nebula & Mars

Canon 10D Digital SLR and Olympus C2020Z Digital Cameras
20 inch GOTO Starmaster
Cherry Springs Dark Sky Park
7/4-6/03
by Gary Honis
FOR LATEST IMAGES SEE LINKS BELOW
Skies were hazy and overnight temperatures were moderate, in the high 60's Fahrenheit. Friday night was the most transparent but I was having problems with the scope's tracking. On Saturday night we were clouded out as the Moon set and Sunday night was clear with haze and fog that varied through the night.
Despite the warm summer temperatures, I was able to image M27 with the Canon 10D using 40 second exposures at ISO 1600. A Denkmeier 2 inch OCS was used for the M27 image.
This was the first time I imaged Mars with both the Canon 10D and Olympus C2020Z cameras. Continuous mode was used on the Canon 10D with the lowest quality image setting (Small/Normal - 1536X1024). A 2 inch 4X powermate was used.
Sequential Mode on the Olympus was used to take many images quickly. Images were taken in SQ2 normal quality (size 640X480). Eyepiece used was a 17 mm Televue Plossel and Televue 2 inch Big Barlow with the Olympus camera zoom lens at full zoom.
M27 Dumbell Nebula:
Click on image below for larger image and exposure details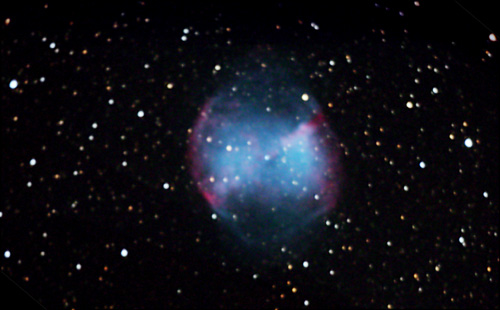 ---
08/31/03 - Cherry Springs Dark Sky Park - Black Forest Star Party
Philips Toucam - Stack of 44 images using Images Plus:

---
Philips Toucam - Stack of 1645 images using Registax 2:

---
Olympus C2020Z - Stack of 497 images using K3CCDTOOLS:

---
Olympus C2020Z - Stack of 331 images using K3CCDTOOLS:

---
MARS - Olympus C2020Z - Stack of 332 images over an 8 minute period using Registax:

---
MARS - Olympus C2020Z - Stack of 111 images over a 4 minute period using Images Plus:

---
MARS - Philips Vesta Pro Webcam - Stack of 1223 images from a 4 minute AVI file using Registax: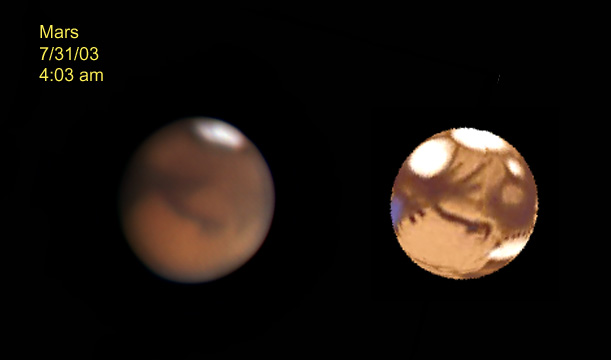 ---
MARS - Side by Side Comparison of images of a 4 minute period - C2020Z versus Vesta Pro:

---
July 4, 2003:
MARS - Canon 10D - Stack of 62 images using Registax:

---
MARS - Canon 10D - Stack of 113 images using Registax: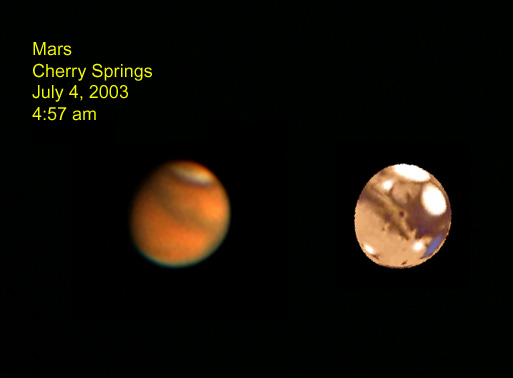 ---
MARS - Olympus C2020Z - Stack of 228 images using Registax: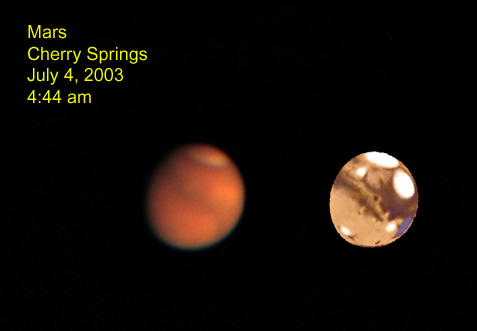 ---
July 6, 2003:
MARS - Canon 10D - Stack of 32 images using Registax:

---
MARS - Canon 10D - Stack of 30 images using Registax:

---
MARS - Olympus C2020Z - Stack of 22 images using Registax:

---
LATEST IMAGES: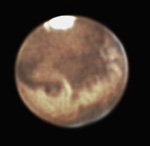 For images of Mars taken on 8/14, 8/19, 8/20 & 8/31 with an Olympus C2020Z and Philips Vesta Pro webcam with a 20" Starmaster CLICK HERE

For images of Mars taken on 7/31/03 with an Olympus C2020Z and Philips Vesta Pro webcam with a 20" Starmaster CLICK HERE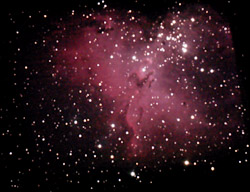 For images of M16 Eagle Nebula and Mars taken at Cherry Springs 7/25-26/03 with a Canon 10D digital SLR, Olympus C2020Z and Philips Vesta Pro webcam with a 20" Starmaster CLICK HERE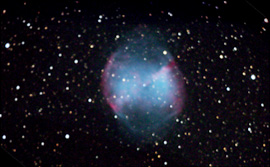 For images of M27 Dumbell Nebula and Mars taken at Cherry Springs 7/4-5/03 with a Canon 10D digital SLR and Olympus C2020Z with a 20" Starmaster CLICK HERE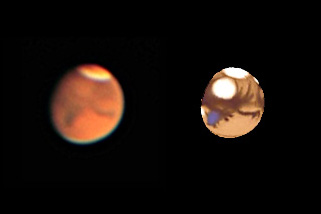 For images of Mars taken at Cherry Springs 6/28-29/03 with an Olympus C2020Z with a 20" Starmaster CLICK HERE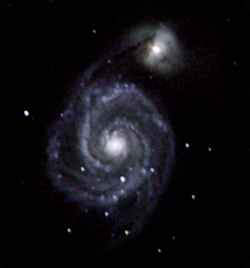 For images of M51 Whirlpool Galaxy taken on 5/18/03 with a Canon 10D, Denkmeier OCS and 20" Starmaster CLICK HERE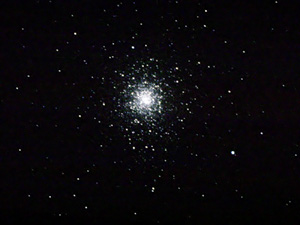 For images of M92, Moon & Mare Crisium taken on 5/5/03 with a Canon 10D, Denkmeier OCS and 20" Starmaster CLICK HERE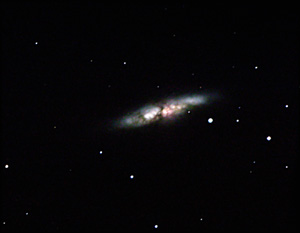 For images of M51, M13, M57, M104, M27, M17, M81 & M82 taken on 4/24-27/03 with a Canon 10D, Denkmeier OCS and 20" Starmaster CLICK HERE
---
Olympus C2000Z & C2020Z pages:
TO PART 8 - DEEP SKY IMAGES WITH AIR-COOLED C2000Z
TO PART 7 - AIR_COOLING MODIFICATION FOR C2000Z
TO PART 6 - DISASSEMBLY INSTRUCTIONS FOR C2000Z
TO PART 5 - 32 SECOND IMAGES WITH C2000Z
TO PART 4 - DEEP SKY IMAGING - LONG EXPOSURES
TO PART 3 - DEEP SKY IMAGING ON 10/31/00
TO PART 2 - DEEP SKY IMAGING ON 10/20/00
TO PART 1 - DEEP SKY IMAGING WITH 2X BARLOW
---
TO MY DIGITAL CAMERA IMAGING HOME PAGE
TO MY MAIN ASTROPHOTOGRAPHY PAGE